Our Guarantee
We back our seeds & products with our full customer satisfaction guarantee.
Read More.
---
---
Newsletter - Autumn 2017
---






Welcome
We continued to enjoy implementing our aim to serve home gardeners and growers who supply produce to others using only the old traditional heritage open pollinated varieties.

It's not always possible to keep each variety in the catalogue each year. Many growers world-wide share our vision so we are able to offer the widest range without resorting to patented hybrids which are a cross between two man manipulated inbred varieties. With the heritage varieties growers can select their own seed for future plantings.

---
Autumn planting is now in full swing, check your needs of the following.
Autumn is here and its now time to plant
| | |
| --- | --- |
| Autumn is a productive planting time. Check your needs of the following autumn vegetable seed now, or whatever you need for your area from the full catalogue throughout our website: | For growers in the tropics and frost free sub-tropics, you can also benefit from planting: |
---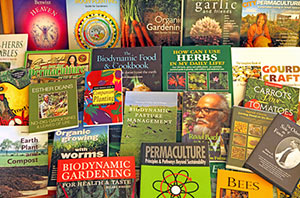 Books Special Offer
All books discounted 20% off until 10th March
(Whilst current stocks last)

When you order books on the Eden Seeds website it will show the full price.
However we will deduct the 20% discount until 10th March.
---
Garlic
---
---
Articles
Solar Electricity at Eden Seeds
15 Feb 2017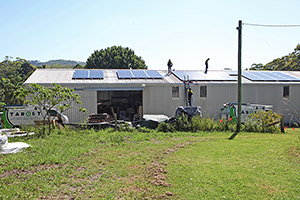 At Eden Seeds Alf Finch has used solar hot water from the beginning. Solar Electricity has always been considered. Recently a new large shed was built and the desire to have battery storage was explored. The decision however is to proceed with a 16kW system and add batteries as these improve in the near future.

The shed is housing two of our cool-rooms, storage and a work room made of recycled timbers, mostly of Queensland rainforest timbers silky oak, hoop pine and brush box with a parquetry floor.

Alf's hobby of furniture making and restoration occupies a large area though this is now winding back.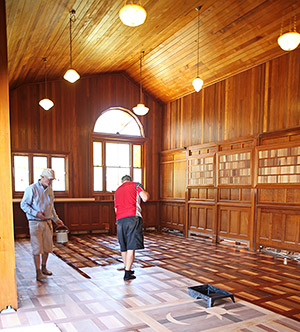 ---
---
Articles
Compost Making
14 Feb 2017
For the autumn planting a new compost was made in early summer.
Sandra Frain and Alf Finch demonstrated the bio-dynamic method. Sandra spoke of the preparations added to the heap and their connections with minerals and the ruling planets.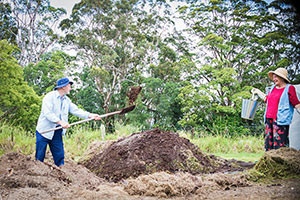 What is compost?
When organic matter is transformed into a humus colloid we can squeeze it between our fingers and the original organic matter is not recognizable - it has become a dark mass.
So if you have "compost" in which you can still see some of the original materials it is not yet transformed into the humus you and plants seek.
What is needed for the desired transformation is soil life, moisture and warmth.
Where-ever there is soil there is the desired soil life to break down organic matter – so add a little soil finely through your compost heap.
There needs to be a constant and even moisture content – don't flood it but keep the heap moist. And although we cannot control the climatic temperature the transformation is quicker in the warmer months.
If all the conditions are right and a good balance of manures and plant matter is present transformation can take 4 to 5 months, though in many cases a little longer. Try to use it by putting compost into the soil before it turns to earth completely.
I like to put anything I wish to add to the soil into a compost heap and make it part of the humus colloid.
Use of the Bio-dynamics preparations can help bring in a balanced influence.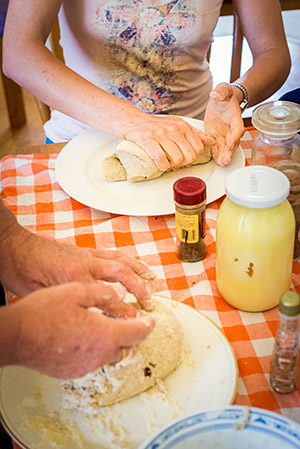 Bread Making Workshop
After the composting making Sandra Frain demonstrated her sour dough bread making and spoke about dairy products. Another workshop is planned by a local group so we hope to have more information for any-one interested in the next newsletter.
---
---
Articles
Freezing Vegetables
16 Feb 2017
Blanch them in boiling water 2-3 minutes.
Take out of the water and dunk them in icy water
Place in freezer bags and then into the freezer
The best are firm vegetables 3-4 minutes) and leafy greens (2-3 minutes)
Tomatoes are best cooked before freezing.
---
---
Articles
Growing Sweet Cicely from seeds
17 Feb 2017
An important use for Sweet Cicely is to reduce the use of sugar when cooking sweet foods. The leaves and stems are used to reduce sugar use by half. It has a taste reminiscent of anise.

The plant is a hardy perennial which prefers a deep well drained soil but will tolerate harder conditions. Plants with a fern-like leaves may grow to 2m in ideal conditions. Originating from mountainous areas from southern Europe to the Caucasus region. Traditionally eaten raw or cooked and with medicinal uses.

When buying Sweet Cicely seed online from Eden Seeds the best way to get better germination is to place the seed in damp sand inside a sealed container or a planting tray, then keep in the refrigerator for eight weeks. Then plant them in potting mix in spring and place in a warm position. Partial shade is preferred. Propagation by division may be done in spring.
---
---
Articles
Nasturtiums
18 Feb 2017
Nasturtiums originate in South America where they were used to prevent scurvy and a nutritious supplement and flavour in salads.
In the 17th century England it was called Indian cress. It has a flavour similar to watercress. It is recognized as a source of vitamin C and antibiotics.
Nasturtiums add a bright sunny show in spring and summer. They are perennial in warmer areas and re-seed themselves. They are often the best choice as a companion plant around fruit trees, cucurbits, brassicas, beans, tomatoes and potatoes.
When you buy Nasturtium seeds in Australia you can choose from many colour variations or a mix of many colours from the online ordering at Eden Seeds.
Legend:

Eden Seeds item
Seed Savers Needed
Sprout & Eat
Select Organic item
Edible Flowers
Sprout & Cut
Certified Organic
Add to Cart
Click the seed variety name for more information.
---
---
Articles
Tree Lucerne
19 Feb 2017
Tree Lucerne is often called Tagasaste. It is a stock food and good windbreak to 4m tall. Pruning may keep it to 2m for easy access.
As a highly nutritious legume it can be cut and fed to stock and is good all-round with poultry and winter bee fodder.
Tagasaste is frost tolerant evergreen when mature and prefers well drained slightly alkaline soils but is hardy in other situations once established. Mature plants tolerate drought and frost. It is thought of as the temperate equivalent of leucaena.
If you are looking for bulk seeds and purchase when you buy Tree Lucerne seeds online from Eden Seeds you will also receive the specific inoculants for Tree Lucerne. To cover the prepared seeds with inoculants mix seeds, milk powder and inoculants. The inoculants will feed on the milk powder until the seed germinates. Then it well live a symbiotic relationship in the roots of the Tree Lucerne to provide nitrogen to the tree.
Sown seeds will sit for weeks or months until it thinks it is ready.
To get a more uniform germination seeds can be scarified. So the seed can be filed until the casing is broken then planted or just as effectively treated with hot water by placing the seed in a cup and pouring boiling water over them. Leave the seed overnight and the ones which have swollen and ready to sow.
---
---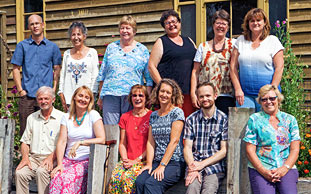 Thanks for your support, happy gardening.
Alf Finch & the staff at Eden Seeds & Select Organic.