Newsletter - Spring 2018
---
Old Traditional, Open Pollinated seeds since 1986
OUR FOOD HERITAGE
No genetically modified hybrids
1002
different lines offered!
Eden Seeds - Vegetables (476), Grains, Herbs, Flowers, Sprouts (303).
Select Organic - Vegetables (161), Grains, Herbs, Flowers, Sprouts (62).
It's now time to start planting your Spring vegie garden

Check your needs of the following vegetable seeds now, or whatever you need for your area from the full catalogue.

Seeds to plant through Spring/Summer

Amaranth

Artichoke

Asparagus

Bean, Bush

Bean, Climbing

Bean, Bush Snake

Bean, Climbing Snake

Beetroot

Capsicum

Carrot

Celeriac

Celery

Chia

Chilli

Corn

Cucumber

Eggplant

Gourd

Lettuce

Luffa

Mustard Greens

Okra

Pumpkin

Radish

Rhubarb

Rockmelon
---
Articles
Getting into a Cob - Sweet Corn Growing and Eating
10 Apr 2018
By Penny Ossowski
The best time to grow Sweet Corn is during the summer months when it is delicious to eat with our summer meals. Plant some now.

Sweet Corn will grow in full sun in most soils, with plenty of compost and mulch, preferred soil pH 5.5 - 7.0.

Lightly dig the soil and create trenches about 5-1 0cm deep. Plant seeds directly into the soil in the trenches. Everyone you speak to has a different way of planting their seeds.
Some of the ways are:
seeds singularly 20cm apart in rows about 30cm apart
plant seed in pairs 20cm apart in rows about 30cm apart
plant corn in a circle of 6 seeds with a garden stake in the centre to tie them to for support
grow in two long rows, stake them and tie them with wire

However you plant the seed, remember the corn is pollinated by the flowers (male) from the top of the plant. Each silk (female) of the corn cob has to be pollinated by the pollen falling from the flower to make its corn kernel grow. The more pollination, the bigger better cobs you will grow, therefore the corn plants need to be fairly close together. Basically each silk is connected to one corn kernel, if the silk isn't pollinated that kernel wont develop. Pollination can be by wind or shaking by hand.

Corn needs plenty of water during flowering and when the cobs are growing. Fertilising with a seaweed fertiliser helps during the growing period and the soil will need to be kept moist. As the plants grow to full height (this varies with the type of seed planted) very few pests will attack them, other than grasshoppers. When the cobs start to form we have to watch out for the corn ear worm, which eats the cob from the top down. The best way to protect against this is to spray with Dipel or use derris dust.

The hardest thing with sweet corn is how to tell when it is ready to pick. Some ways that have been suggested are
When the tassel turns dark brown/black
Feeling firmly along the cob to feel the size of the corn kernels
Pull back part of the sheath and pierce a couple of grains using your fingernail, if a water liquid squirts out the cob is unripe, if the liquid is creamy then it is ready to pick

Sweet corn tastes best when it is freshly picked just before cooking. It can be boiled in a saucepan of water for about 5-10 minutes after stripping the leaves and tassels from the cob then served bare or with plenty of butter dripping from your chin as you devour it.
If you have an over abundance of Sweet Corn it can be blanched, then frozen either on the cob or strip the kernels and freeze separately. Corn relish can bottled for year round use.
American Indians said "walk slowly to pick, run back to cook it".
Click the seed variety name for more information.
---
---
Lemon Grass Corms are back in stock
---
Book Special - 30% discount on ALL titles!
Stock reduction sale for Spring 2018, we are offering a massive 30% off all our books, DVDs, and wall charts. Prices will remain listed at full price but we will manually deduct 30% discount off any books on your order when we process your order.
---
Recent additions to our seed range
---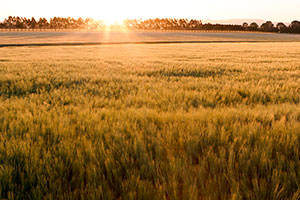 Kialla Pure Foods 30 years after July 1988.
Eden Seeds commenced in 1986. In July 1988 Alf was please to attend the first BFA (Biological Farmers of Australia - later to become Australian Certified Organic) field day at the McNally Farm (Kialla).
Eden Seeds is proud to be associated with the distribution of certified organic seeds including grains.
---
Plant trees for butterflies
The butterfly effect is a parable for our thinking. The butterfly is a cosmic being. Thoughts cannot be measured or weighed; they are spiritual activity and not even our own until we choose them to be.

Select good positive thoughts and send them back into the cosmos.

Love descends on us, we can keep it (egotism) for ourselves or develop the desire/capacity to send love back to ennoble other beings in the cosmos.
This to me is the butterfly effect.

What can we do as caretakers. Plant trees for butterflies.

Alf Finch
---
Articles
Phoenix Seeds
04 Sep 2018
We are saddened to here of the passing of Michael Self in early August after a long illness.

Michael worked with Bill Mollison to start Self Reliance Seed Co which later became Phoenix Seeds.

When I moved from Brisbane in 1982 to Sandy Creek, Gympie, to build an adobe mud-brick house the garden often took precedence over building and seeds came from Phoenix Seeds. We extend our condolences to family and friends.

Alf Finch.
---
---
Special offers to get you started with Spring planting.
with free shipping!
*New* Kitchen Herbs - Pack of 10

Showing items 1 - 11 of 11
---

Thanks for your support, happy gardening.
Alf Finch & the staff at Eden Seeds & Select Organic.