Autumn Newsletter 2014
---





New website for Eden Seeds & Select Organic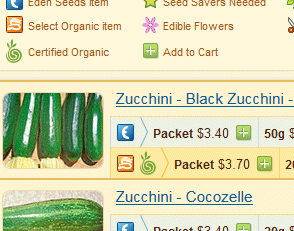 After a good long run of 14 years with our original website we were definitely due for an overhaul. Our new website has been custom built from scratch and it addresses several issues that were present in the old site.
The most notable change is we have now combined both Eden Seeds and Select Organic into one website which makes for an ever bigger range of seeds available in the one place. The search facility has been upgraded, the product navigation has been redesigned, the list of seeds in each category now includes a small preview image, and the checkout will now email a confirmation email of your completed order.
Overall we have made a big effort to make our new website (with it's huge product catalogue) as simple and easy to use as possible and we hope you'll have a smooth and easy experience browsing our range of seeds and products. We're not finished yet though, over the next year we have more planned features & improvements to roll out, but for now we felt it best to get the site published sooner so that our customers may have an improved online shopping experience.
Best wishes, Paul :)
---
Autumn is here, its time to plant
Autumn is a productive planting time. Check your needs of the following autumn vegetable seed now, or whatever you need for your area from the full catalogue throughout our website:

Broad Beans
Beetroot
Broccoli
Brussels Sprouts
Cabbage
Carrot
Cauliflower
Celery
Celeriac
Collards
Kale
Kohl Rabi
Leek
Lettuce
Mustard Greens
Onions
Parsnip
Peas
Radish
Salad Greens
* Mesclun Mix
* Corn Salad
* Edible Chrysanthemum
* Endive
* Mizuna
* Rocket
* Tatsoi
* Purslane
* Mountain Spinach
Salsify
Shallots
Silverbeet
Spinach
Swede
Turnip
Asian Vegetables
Herbs

For growers in the tropics and frost free sub-tropics, you can also benefit from planting:

Broad Bean
Bush Beans
Climbing Beans
Beetroot
Broccoli
Brussels Sprouts
Cabbage
Capsicum
Carrot
Cauliflower
Celery
Collards
Maize/Sweet Corn
Cucumber
Eggplant
Gourd
Kale
Kohl Rabi
Leek
Lettuce
Okra
Mustard Greens
Pumpkin
Radish
Rockmelon
Salad Greens
* Mesclun Mix
* Corn Salad
* Edible Chrysanthemum
* Endive
* Mizuna
* Rocket
* Tatsoi
* Purslane
* Kang Kong
* Shallots
Silverbeet
Spinach
Squash
Sunflower
Tomato
Watermelon
Zucchini
Asian Vegetables
Herbs
---
Garlic (certified organic)
Available while stocks last!
Biodynamically grown. Hard-neck mid season type, coiled flower stalk with bulbils, medium to large size bulbs with between 8-10 cloves. Cloves are high quality, skin is white with purple streaks. Very pleasant flavour. Requires cold winters for optimum growth.
(We cannot send to W.A. or TAS)

1kg $38.00, 18kg $520.00

Biodynamically grown. Soft-neck mid season Californian type, large white bulb and cloves, between 6-8 cloves per bulb, stronger flavour, selected in S.A. Requires cold winters for optimum growth.
(We cannot send to W.A. or TAS)

1kg $38.00, 18kg $520.00

Biodynamically grown. Soft-neck variety, originally from southern Italy. Large head with white softly marked wrappers. Mild taste and stores well.
(We cannot send to W.A. or TAS)

1kg $38.00, 18kg $520.00
---
(Araucaria bidwillii)


Majestic Queensland rainforest tree. Excellent timber. Huge cones yield up to 1.5kg of nuts, with low fat, high carbohydrates. Eat raw, boiled with salt or best roasted in the coals 2 minutes, can be dried and ground into a flour. Available February and March only in a good season.

1kg $9.00

Alfalfa, Barley, Beet, Broad Bean, Buckwheat, Clover Red, Clover White, Corn Salad, Dun Pea, Endive, Fenugreek, Kale, Lupin, Maku Lotus, Medic, Millet Jap, Millet White, Mustard, Oats, Purslane, Radish, Rocket, Rye, Spinach, Turnip, Vetch, Wheat, Dill.

200g $7.00, 1kg $17.00, 5kg $65.00
---
What is compost?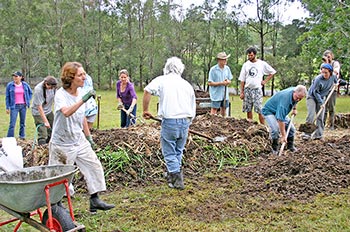 When organic matter is transformed into a humus colloid we can squeeze it between our fingers and the original organic matter is not recognizable - it has become a dark mass.

So if you have "compost" in which you can still see some of the original materials it is not yet transformed into the humus you and plants seek.

What is needed for the desired transformation is soil life, moisture and warmth.

Where-ever there is soil there is the desired soil life to break down organic matter – so add a little soil finely through your compost heap.

There needs to be a constant and even moisture content – don't flood it but keep the heap moist. And although we cannot control the climatic temperature the transformation is quicker in the warmer months.

If all the conditions are right and a good balance of manures and plant matter is present transformation can take 4 to 5 months, though in many cases a little longer. Try to use it by putting compost into the soil before it turns to earth completely.

I like to put anything I wish to add to the soil into a compost heap and make it part of the humus colloid.
Use of the Bio-dynamic preparations can help bring in a balanced influence.
---

News
Tasmania to stay GM-free indefinitely
Congratulations to all Tasmanians on re-confirming the state a GM-free Zone, indefinitely. The state's reputation for top quality GM-free produce and its competitive advantage are boosting sales, with local value adding, more employment and positive marketing. The 160 comments sent to the inquiry: offered no credible case for commercial GM canola that could be sprayed more often and at higher doses with Roundup weed killer. http://www.dpipwe.tas.gov.au/inter.nsf/WebPages/RJOS-9DV54T?open This crop would have canceled the state's successful program to reverse GM canola contamination left over from field trials in the 1990s. False promises misled some poppy & dairy farmers to believe there may be GM benefits for them. The Office of Gene Technology Regulator issued field trial licences for basic pasture and poppy research but all the licences were surrendered without yielding commercial results - for pharmaceutical poppies in 2001 & 2002, for GM perennial ryegrass and tall fescue in 2008, and for GM white clover in 2004 & 2009. Tasmania continues to have an assured opportunity to supply excellent, top-quality GM-free foods and pharmaceuticals anywhere in the world at premium prices. These are the tangible benefits of remaining a GM-free Zone.

DOWNLOAD MEDIA RELEASE HERE
Kangaroo Island Pure Grain benefits from GM-free South Australia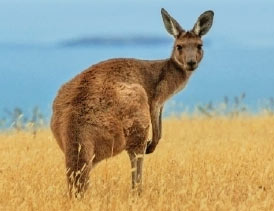 Kangaroo Island Pure Grain growers are also reaping big GM-free premiums from South Australia's GM-free Zone. With wide community support, all political parties will keep SA GM-free, at least until the ban is reviewed in September 2019. Good GM-free policies since 2001 have enabled KI Pure Grain to build a viable business with strong sales of GM-free food, based on shopper demand & competitive advantage. They can grow, value-add & market excellent GM-free food products anywhere, anytime. Even in North America, where half of all GM crops in the world are grown, shopper demand has made GM-free labeled foods the fastest growing segment of food retail. Another 160 countries remain GM-free and are our customers too. http://www.weeklytimesnow.com.au/commodities/focus/kangaroo-islands-grain-treasure/story-fnker6cv-1226796268175


Steve Marsh's GM contamination case - starts in Perth, Feb 10, 2014
Steve Marsh is a West Australian farmer who lost his organic certification when GM canola blew onto his farm from a neighbour's property in 2010, the first year the crop was commercially grown in WA. Watch a 6 minute video that explains his case and the key issues, here: http://safefoodfoundation.org/what-we-do/help-this-farmer/ Please also contribute to the cost of Steve's case. The Pastoralists and Graziers Association are backing Steve's neighbour, Mick Baxter, making this a David and Goliath contest. Steve's court case starts on February 10, 2014 in the Western Australian Supreme Court. He is seeking compensation for the substantial losses, extra costs and harm that resulted from the GM contamination and his loss of organic certification. In a way, this court battle is unfair to both Steve and his neighbour as the GM canola seed still belongs to Monsanto which created it. The contract of sale transferred responsibility onto the GM canola farmer for any GM contamination. In the circumstances it was inevitable. Rural community relations are poisoned by GM conflicts and Australian governments must step in now to stop it now. Measures to try and prevent future GM contamination will also be part of the case. Gene Ethics advocates no-fault Farmer Protection laws, to automatically compensate any landholder - organic, conventional or public - who suffers loss from GM contamination. A levy on all GM seed sold should fund the compensation so the GM industry pays for keeping its own house in order. Please share this story on social media, far and wide.

I am Steve Marsh - on Facebook
Brilliant: Seeds - The Buried Beginnings of Food (TED talk)
A small cartel of huge agrichemical and GM companies aim to control the global seed and food supplies by owning seed companies. https://www.msu.edu/~howardp/seedindustry.html The foundations of our wonderful food supplies, created by peasant farmers and seedsavers over the past 5,000 years, are being hijacked. Monsanto alone controls 27% of commercial GM and non-GM seed. In just 12 minutes http://tinyurl.com/l4u7tfq award-winning journalist, strategist and educator, Simran Sethi, takes us into our plates to see the erosion and loss of what we grow and eat, exploring crop biodiversity, seed monocultures and consolidation. Small-scale family farmers still grow much of the world's food. Simran explains how we can support them, to ensure the security and sovereignty of seed and food.
Please consider supporting Gene Ethics who are a non-profit organisation working for a GM-free future, by either donation or membership. Like Gene Ethics on facebook

---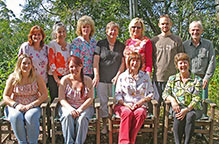 Thank you for your continued support,
Best wishes from Alf Finch and staff.
---