Newsletter - Summer 2021
---
Old Traditional Open Pollinated - No Hybrids or GMOs - No Chemical Treatment
Greetings
I hope this finds you all well and happy to have gardening to give hope for the future.
We are servicing our orders again with next day despatch and thank you all for your support and patience during the difficulties we had servicing your orders in 2020.
Included is details and planting and storage of seed which we hope will be of assistance.
Best wishes for peace and joy this coming year.
Alf Finch.
Eden Seeds / Select Organic.
---
Seeds to plant through Spring/Summer

Amaranth

Artichoke

Asparagus

Bean, Bush

Bean, Climbing

Bean, Bush Snake

Bean, Climbing Snake

Beetroot

Capsicum

Carrot

Celeriac

Celery

Chia

Chilli

Corn

Cucumber

Eggplant

Gourd

Lettuce

Luffa

Mustard Greens

Okra

Pumpkin

Radish

Rhubarb

Rockmelon
---
Garlic - certified organic
---
Planting Guides and Information
Planting guide for vegetables
PDF format, 138KB

Planting guide for green manures
PDF format, 103KB

Sprouting guide
PDF format, 178KB

Seed care information
PDF format, 632KB (2 Pages)
---
Green Manure Mix
It is enough to cut green manures as they flower though they can also be cultivated into the top 5cm (2 inches) of soil. As part of the rotation they help build up organic matter and the rotation can be used to control weeds. Stir well before broadcasting into a newly cultivated soil. The mix may vary a little depending on availability. Our aim is to make available as many reasonably priced legumes, grains, vegetables and herbs as possible. Not all mature together, but that's o.k, dig them in anyway and leave them one month before planting time. 400g covers approximately 100sq m. 1kg covers approximately 250sq m. 4kg covers approximately 1000sq m.
---
Book Special - 30% discount on ALL titles!
Stock reduction sale, we are offering a massive 30% off all our books, DVDs, and wall charts. Prices will remain listed at full price but we will manually deduct 30% discount off any books on your order when we process your order.
---
Pandemic Sparks Call for End to Big Ag's Control of Seeds and Food System
Campaigners at Open Source Seeds, Campaign for Seed Sovereignty and other groups argue that "something as universal as food crops should belong to everyone, not a small group of agrochemical companies."
---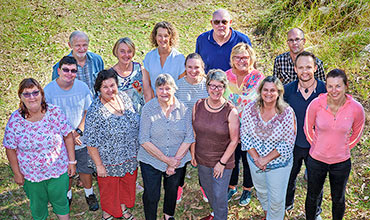 Thanks for your support, happy gardening.
Alf Finch & the staff at Eden Seeds & Select Organic.