Articles
Grow Your Own Healing Herbal Teas
07 Jul 2023
Creating Herbal Tea Blends 🌿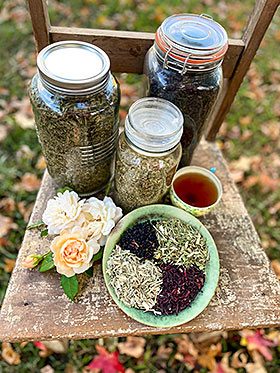 Making an herbal tea that balances both the energetics and flavours of the plants being used requires a thoughtful approach.
Here's a guide to help you create a harmonious and enjoyable herbal infusion:
o Select your herbs: Choose herbs based on your specific health needs or desired effects. Different herbs have different medicinal properties, such as calming the nervous system, supporting digestion, boosting immunity, or relieving cold and flu symptoms. Do some research and choose a combination of herbs that align with the desired energetic qualities you seek. For example, if you want a calming tea, consider chamomile or lavender. If you want an invigorating tea, peppermint or ginger could be suitable.
o Consider the flavours: Think about the flavours you want to incorporate. Some herbs have distinct tastes, such as the floral notes of rose petals or the citrusy tang of lemon verbena. Experiment with blending herbs that complement or contrast each other for a well-rounded flavour profile.
o Determine ratios: Start with equal parts of each herb and adjust to achieve the desired flavour. You may want to use more of a dominant herb for its specific qualities or decrease the number of stronger-tasting herbs for balance.
o Blend and mix: Thoroughly mix the herbs together in a bowl to ensure an even distribution of flavours.
o Brew the tea: Use approximately 1 teaspoon of the herbal blend per cup of hot water. Steep the blend in freshly boiled water for 5-10 minutes, allowing the herbs to release their flavours and therapeutic properties. Keeping a lid on top allows the healing properties to stay in your cup and not dissipate into the air.
o Strain and enjoy: After steeping, strain the herbal infusion into your cup and savour the aromatic and flavourful experience. Take a moment to appreciate the tea's energetics, noting if it brings about the desired effects, such as relaxation, invigoration, or balance.
o Dosage and consistency: Follow recommended dosage guidelines for each herb to ensure safety and effectiveness. Consistency is key when using herbal tea as medicine. Regular consumption over time can yield more significant results compared to sporadic use. Remember, the energetics of herbs can be subjective, and individual responses may vary. Listen to your body and adapt the blend and steeping time according to your preferences.
---
🌼 A couple of uncomplicated, tried and true herbal tea recipes 🌼
YEP
Yarrow, Elderflower & Peppermint, in equal parts (ie - 1 Tbsp of each, mixed and stored in a glass jar until ready for use)
This traditional recipe goes back centuries, and can be found in many classic herbalism texts. This tea is good for both warding off, and supporting the body through colds and flus. Especially feverish conditions. Serve as hot as the patient can take it, a little raw honey may be added if needed.
Chamomile and Lemonbalm
Dried, crushed leaves and flowers (aerial parts) in equal portions.
This trusty duo is your go-to for winding down at the end of a hectic day, or to soothe the soul into a slow Sunday morning.
Good for headaches, stomachaches, aiding digestion, and both lovely immune-supportive allies.
---
So, why bother growing your own when you can just grab one off the grocery store shelf?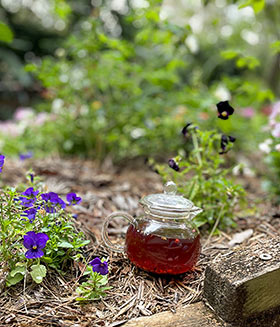 Growing your own herbal remedies offers numerous benefits for both your health and well-being.
Here are some reasons why you should consider cultivating your own herbal garden:
Access to Fresh and Potent Herbs: By growing your own medicinal herbs, you have direct access to fresh and potent plant material. Harvesting herbs at their peak ensures maximum therapeutic value and effectiveness.
Quality Control: When you grow your own herbs, you have control over the cultivation practices. You can choose organic methods, avoid pesticides and herbicides, and ensure the purity and quality of your herbs.
Cost-Effectiveness: Growing your own herbs can be a cost-effective alternative to purchasing them. Once established, herbs are generally low-maintenance and can provide a continuous supply of medicinal plants.
Connection with Nature: Cultivating a herbal garden allows you to connect with nature and develop a deeper understanding and appreciation for the healing power of plants. Gardening can be a therapeutic and grounding activity that promotes relaxation and stress reduction. Not to mention beautifying the space around you!
Sustainable and Environmentally Friendly: Growing your own herbs promotes sustainability and reduces your carbon footprint. It eliminates the need for long-distance transportation and packaging associated with commercially sourced herbs.
Customisation and Personalisation: Growing your own herbs enables you to tailor your medicine to your specific needs. You can select and blend herbs to create personalised remedies that address your unique health concerns.
Educational Opportunity: Gardening provides a valuable learning experience. You can deepen your knowledge of botany, herbalism, and the healing properties of plants, fostering a lifelong journey of self-empowerment and natural health.
Enjoy the journey of exploring different combinations and finding your perfect cup of herbal tea. 🍵
---