Articles
Lost Seed
27 Oct 2016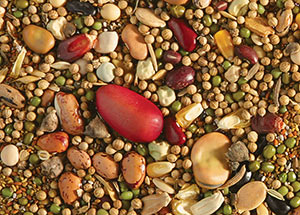 By using old traditional open pollinated vegetable varieties and learning to save seed for distribution to other growers we can be part of the support movement to save our food heritage varieties.
From the Garden Seed Inventory between 1987 and 2004 there were 1791 varieties of vegetable seeds no long available in North America which represents a loss of 24.5% in 14 years.

Plant varieties which have lost more than 25% since 1981 include Asparagus, Sugar-beet, Broccoli, Brussells Sprouts, Cabbage, Cauliflower, Celeriac, Corn, Corn Salad, Onions, Peas, Pumpkin, Radish, Salsify, Squash, Turnip.
In Cauliflower of the 152 listed varieties in 1981 by 2004 only 30 remained available – replaced by the proliferation of hybrids in all Brassica family vegetables.

Books to help with seed saving include the "Seeds Savers Handbook" and "Seed production for the Australian home vegetable gardener". These books are available from Eden Seeds which is keen to acquire seed for distribution to growers Australia wide.

Alf Finch
---