Articles
Saving Tomato Seeds
01 Nov 2016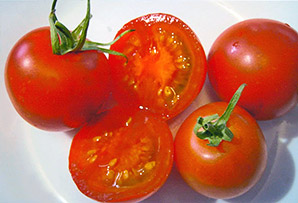 Once a Tomato is ripe then so are the seeds mature.
It is best when saving seed to let the tomatoes over ripen on the bush - but start the process as soon as any damage appears.

Tomato seeds have a jelly around the seeds which makes them difficult to handle and acts as an inhibitor to germination until it is rotted away. Most seeds savers squash tomatoes into a container and mix with water to ferment for a few days (3 to 5) in a warm spot (a sunny verandah is suitable).
The more the mixture is stirred the better the process and the more the seeds sink to the bottom.

When ready the container can be filled with water.
The heavier seeds will mostly be in the bottom so fermented flesh and skin can be gently tipped off.
Repeat this process several times until the seed is separated.
Seed is best placed on a screen of fly-wire and placed in a sunny spot to dry for several days.

Stir whilst drying to reduce damp spots and prevent them from sticking together.
Bring seeds in every night or rodents may eat the seed and the night air keeps them damp overnight.
Store in a cool dry place (once seed is dry enough) in an air-tight container in the fridge crisper. You will thus achieve years of viable storage.
---