Articles
The Four Elements
26 Feb 2016
To promote balance, and a healthy environment for healthy food production loosen soil with a garden fork and do not turn it over. Keep soil moist and healthy soil life will flourish. Plant roots will benefit, some green leafy vegetables will tolerate partial shade though most plants benefit from a sunny airy position.


Excerpts from "Culture and Horticulture" by Wolf Storl
The concept that everything in Creation is composed of the elements, FIRE, AIR, WATER and EARTH, is ancient indeed...

Aristotle for example, sees primary matter as a CHAOS, that has only potential existence until it is impressed by the ordering formative forces derived from the COSMOS. These forces have four manifestations in the four elements. Matter is made manifest to us in the continual interplay of fire, air, water and earth. ...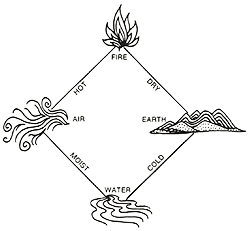 Whereas
Fire is warm and dry,
Earth is dry and cold
Water is cold and wet
Air is moist and warm.

The four elements are not just confined to the inorganic and mineral world, but bring into manifestation the other kingdoms of nature as well. In the plant kingdom, the earth leaves and fluid system of the plant, the air in the lightness and fragrance of the flowers, and the fire in the ripening of fruit and seed. ...

Of what use are the four elements to us as farmers and gardeners? For one thing the manifestations or the four elements are directly available to our senses, while the 100 and some elements that the chemist talks about are not there for us in experience directly. ...

It is a good exercise to practice detecting the four elements and to try to describe all observable phenomena in these terms. Many secrets of nature reveal themselves to the observer, and that without the aid of complicated instrument or technical literature that abounds with abstract jargon. If practiced correctly, one has at one's disposal a means of finding the keys to successful gardening without the aid of a distant specialist.

In the days of yore, the four elements found imaginative personifications as the workings of :

The gnomes and dwarves (Earth) who worked crystal mines and on plant roots,

Nixies and undines (Water) found in all water interfaces,

Sylphs and fairies (Air)

And fire spirits and salamanders (Fire)
---