Gardening Articles
Colour My World with Sweetpeas
By Penny Ossowski
It's almost time, from when I was a young child the time for planting sweetpeas was St Patricks Day (17th March). I do sometimes think maybe in our climate we should leave it a little later but tradition is call that for a reason. Mum always saved her own seeds and the result was beautiful colours especially the mauves and purples, fantastic perfume and plenty of flowers to a stalk. I have saved seeds off and on for years but was not as dedicated as Mum. Some years I purchased seed and was so disappointed in the colour, perfume or flowers per stalk I swore I wouldn't grow them again, but I will. This year I have decided to try Old Spice, this variety is said to be more closely related to the original wild ones.
The modern sweetpea, Lathyrus odoratus, is descended from the wild sweetpea of Sicily which had a scent that in 1699 the British liked so much they took it back to Britain to improve it. As we have seen this eventually resulted in larger, showier flowers but less fragrance and many varieties have been bred without fragrance and with less flowers per stem. 'Many of the modern varieties are a result of the work done by Henry Eckford, a nurseryman of Scottish descent who crossed-bred and developed the sweetpea, turning it from a rather insignificant, if sweetly scented flower, into the floral sensation of the late Victorian era. In 1888 he set up his development and trial fields for sweetpeas in the Shropshire market town of Wem and by 1901, he had introduced a total of 115 cultivars.' (from Wikipedia.com).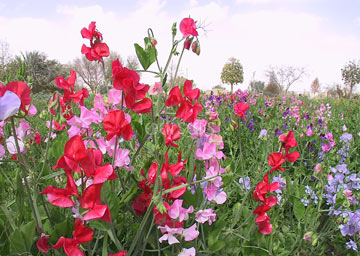 Prepare your soil for sweetpeas with plenty of manure and some blood and bone (sweetpeas are heavy feeders) up to six weeks before planting the seeds. The sweetpea is a natural climber, using its tendrils to weave way up fences, trellised, tripods or trees with some varieties growing as high as 3 metres. If you haven't got anywhere for them to climb there are also some bush types which grow from 30cm to 90cm. Sweetpeas can be a helpful companion in the vegetable garden attracting bees and other beneficial insects; they don't mind sharing with green beans and other vegetable climbers. Plant them directly into soil in a sunny position with good drainage. They prefer a pH of around 6.5. The seeds can take a while to germinate especially in lighter drier soils so it is often helpful to soak them for 24 hours before planting, they can also be scarified with some sand paper (opposite the testa) before soaking.
As the seeds start to shoot watch out for slugs and snails as they are particularly partial to these young greens. When the sweetpeas are about 15cm to 20cm tall, pinch out their tips to encourage them to send out more side shoots which will result in more stems, more flowers and a stronger plant.
Regular watering is necessary for optimum growth and flowers. When flowering starts, remove flowers for using inside the house and dead head regularly to encourage a longer blooming period. At this time select a few with attributes you like best to save seeds from for next year. It can help to have coloured ribbons so you can tell which seeds are which e.g. a mauve ribbon around the stem of a mauve flower, red around red etc. The mauve flowers are my favourites and have usually had the best perfume. Keep a few extra seeds for BOGI Seeds.
N.B. There is evidence that seeds of the sweetpea are toxic if ingested in quantity.
Eden Seeds has many Heirloom varieties available online for Australia wide distribution.
Click the seed variety name for more information.
---