Gardening Articles
Growing Chives, Shallots and Spring Onions
By Penny Ossowski
We use a lot of plants from the Allium group to flavour our meals, the most popular members of this group include onions, garlic, leeks, spring onions, shallots and chives. Of these the easiest to grow would have to be chives, shallots and spring onions, but there is often some confusion as to which is which.
Growing requirements for chives, shallots and spring onions are fairly similar, all love sunny well drained beds with a pH 5.6 to 6.8 and appreciate some lime or dolomite added to the soil to sweeten it. Avoid fresh manures for shallots and spring onions (it encourages too much leafy top) but chives are not so fussy. They will all grow throughout the year but do better when planted out in late summer to early spring. After preparing the soil for planting chives, bunching onions and spring onions level the soil with the back of a rake then sow the seed fairly thickly, cover with 1cm layer of fine soil, press down firmly with your hands or a flat board. Soil should be kept damp until germination. When seedlings are about 6 – 8cm high thin as required (thinning can be used in salads or stir fries). Be careful when weeding that you don't pull out the fine seedlings.
Chives, shallots and spring onions will grow well in the garden bed or in containers.
Chives, the smallest of the onion family, known more as an herb than a vegetable are a perennial and would have to be the easiest to grow. Chives of one type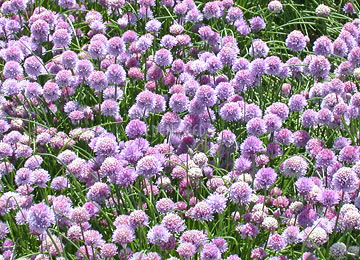 or another are found in most homes and grow equally well in pots or in the garden bed. They are one of the "fines herbes" of French cuisine, which also includes tarragon, chervil and/or parsley. Varieties of chives are native to Europe, Asia and North America their English name 'chive' is derived from the French word cive which in turn was from the Latin word cepa meaning onion. Chives can be grown from seeds, sown in spring and autumn or division of clumps in autumn. In cooler areas chives die back in winter. Harvest stalks regularly by cutting with scissors to about 2cm above the ground, they will regrow to allow a steady supply of fresh chives. They love a regular feed of liquid fertiliser. While flower heads will attract bees to the garden and produce seeds for future plantings most should be trimmed to encourage more leaf growth. Young chives are susceptible to slugs and snails and can be attacked but in the main are pest free.
Chives are full of healthy vitamins and minerals, especially vitamins A & C and are often used with fish, potatoes, soups, cheese, pancakes, and sandwiches and more generally as a garnish, both the leaves and flowers are edible. In gardens they also help as an insect repellent and as such can be grown throughout the garden as a natural pest repellent. Romanian gypsies used chives in fortune telling and believed hanging bunch of dried herbs would ward off illness and evil.
The two most common varieties of chives are Onion Chives and Garlic Chives but over the years there have been many variations of these.
Onion Chives (Allium schoenoprasum) has grass-like leaves and pretty mauve pompom flowers in summer and autumn.
Garlic Chives (Allium tubersom) have flatter leaves, a mild garlic flavour and white flowers.
Then comes the debate when is a shallot not a shallot?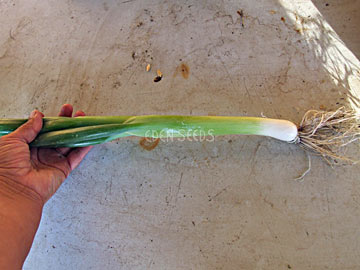 The following is my understanding of shallots and spring onions, overall it doesn't matter as long as you know which you are talking about and you enjoy eating the ones you are growing.
True Shallots (Alliumm cepa L. Var/ aggregatum formerly A. Ascalonicum) also known as French Shallot, golden shallot and eschallot are a perennial which
are often grown as an annual probably originating in Asia and the Middle East. Their appearance is sometimes described as a cross between an onion and garlic, they seldom produce seed instead produce cloves/bulbs and are grown from these. In autumn bulbs are planted pointy end up just beneath the soil surface and as this bulb grows it will divide into 12 or so segments. Harvest the shallots before flowering for the best flavour. Most commonly grown are the white stemmed varieties but these are also golden, pink, red and purple varieties. Shallots can be eaten raw, boiled, pickled, baked or fried and are flavoured because of their delicate onion flavour. Some popular varieties include Golden Shallots, Shallot Roderique.
Bunching Onions (Allium fistulosum) also known as Welsh onions, shallots (in Australia), green onions, Japanese bunching onion and salad onion are also a perennial which is often grown as an annual. They can be grown from division but more commonly from seed, although they will grow all year round a better result is achieved when seeds are planted after the extreme heat of summer. These are the ones commonly called shallots in Australia and grown in most home gardens with straight white shanks, green hollow leaves and no bulb. Of interest although commonly referred to as Welsh Onions they do not come from Wales, Welsh comes from the old German "welsche", meaning "foreign" and probably originated in Asia. This is and has been one of the most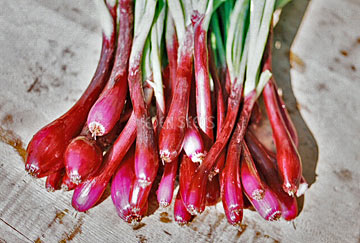 popular 'onions' throughout Europe and Asia because of its ease of growing and versatility. Neighbours we has a number of years ago from Macedonia munched on them fresh from the garden as they drank their homebrewed raki. Some popular varieties include Shallots Evergreen Bunching, Shallots Straight Leaf, Onion 'Green Stem Welsh', Bunching White Sweet Spanish. 'Deep Purple Welsh' and Onion 'Red Stem Welsh'.
Spring Onions (Allium cepa var. cepa) are a bulbing onion, they form a slightly rounded bulb at ground level whereas a bunching onion has a straighter shank, and they don't multiply to forms clumps. These are usually grown as an annual but are in fact a biennial, producing a flower and seeds in their second year. I have found if you don't harvest them early (3 – 4 months) the bulb will grow larger more like an onion. These spring onions only grow from seed so it is advisable when harvesting to leave a couple of plants specially to produce seed. They can be sown at any time of the year but do best when planted after the extreme heat of summer and with successive plantings throughout the year to keep your kitchen well supplied, harvesting as they are required. A spring onion has a sharper taste the shallots and bunching onions which increase as they mature, they are delicious in salads and can be used cooked in most meals, cooking softens their flavour.
Some of the above comes from what I learned over the years and some from what other people have told me and some I have not been able to verify so I welcome your feedback on your favourite chives, shallots and spring onions and your opinions/expertise on the differences between these.
Shallot Chilli Sauce
20 shallots, peeled and sliced 12 red chillies, seeded and sliced
8 cloves garlic peeled and sliced 1 tsp salt
1 tbsp dried shrimp paste, toasted 1 tsp lime juice
I cup oil
Heat oil over medium high heat.
Sauté all ingredients except for the lime juice for approximately 2-3 minutes. Cool, then add the lime juice.
Eden Seeds/Select Organic has a wide range of heirloom onion seed available to buy online.
These onion varieties are the old traditional open pollinated Heritage seeds for home gardeners.
Click the seed variety name for more information.
Click the seed variety name for more information.
---