Gardening Articles
Growing Cucumbers
By Penny Ossowski
Cucumbers are members of the Cucurbit family which includes other family favourites such as pumpkins, chokos, zucchinis and gourds.

The cucumber is native to Pakistan, India, Burma and Thailand. Evidence indicates it grew in these areas around 900BC and has been cultivated in these regions for over 3000 years. The early Asians are believed to have used it as an offering to their Gods.

Cucumbers like a rich organic soil prepared with plenty of compost and manures. They will grow well on either a trellis or on the ground. I find they are easier to keep pest and disease free if they are grown on a trellis. The higher the trellis the higher they grow. It is time to plant them now once the colder weather has passed. Plant your seeds direct into the soil. The seeds will shoot about 7 days after always water the soil at the base; do not water the leaves as this will encourage powdery mildew. Depending on the cucumber variety you grow, you can sometimes start harvesting about 7-8 weeks from planting. Cucumbers will also grow well in a container with a trellis.

The most common disease that afflicts the cucumber is powdery mildew. I have found this usually starts after too much rain or if the vines are not getting enough sunshine and air circulation. The most common organic way to treat it is with a milk and water spray (must be full cream and not homogenised) with a little bi-carb soda. A lot of people say this is not the most successful method of treatment. The alternative treatment is to spray with a wettable sulphur spray (almost totally organic).

The pests found most commonly of cucumbers are pumpkin beetles, aphids, the 24-28 spot ladybird beetle and spider mites. The best organic way to remove these is by hand or to hose off. Cucumber plants produce both male and female flowers. Male flowers appear first, but don't despair the vines will soon flower again with both male and female flowers and continue flowering throughout the growing season. Keep picking and this will encourage them to keep producing more fruit.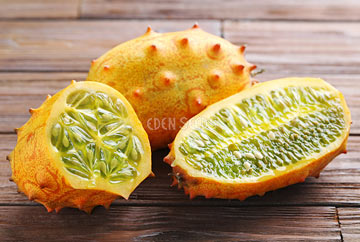 The variety of cucumber you grow will depend on how you want to use them, eat them etc. There are over 120 varieties of cucumbers. I find the Lebanese are my favourites as can use them for pickling, raw in salads, cold soups, in sour cream with dill, in stir fries and as a snack straight from the vine. Other varieties include long ones, short ones, green ones white ones, yellow ones, very seedy ones and probably the most interesting the African Horned Cucumber. I remember this
cucumber growing wild as a child and it is easy to see why, with all the seeds they contain. Cucumbers also come in burped and burpless.
BOGI Seeds sells two varieties. Muncher Burpless is a tender burpless slicing variety, can be used in pickles and grows to 17 cm long with a smooth, bitterness free, green skin and is resistant to the mosaic virus. The Giant Russian is a vigorous, heavy bearing vine with acid-free, crisp and sweet fruits. When mature it turns from yellow to orange brown and measures 200 mm by 125 mm. It is resistant to mildew and can be stored for several months.

Cucumbers can also be used for a quick face lift. We have all seen in advertisements, magazines and cartoons, fresh cut slices of cucumber placed on the closed eye lids. This is so their cooling effect and astringent qualities will help reduce puffiness and firm the skin around the eyes.
Buy cucumber seeds online from Eden Seeds. Eden Seeds has a large range of non-hybrid seeds for your garden. Consider buying Heirloom seeds, they are our food heritage.
Click the seed variety name for more information.
---