Gardening Articles
The Cape Gooseberry Bettle
By Penny Ossowski
For many years the cape gooseberries would self seed in my garden and the only pest to affect them would be the red spider mite, but, one morning a couple of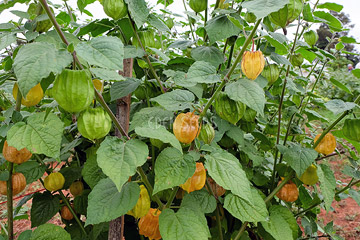 years ago every leaf of my cape gooseberries had been eaten. All I could see were some slimy black blobs. At that time I thought very little of it and after all I hadn't exactly planted the cape gooseberries. They were more like edible weeds, which I would often pull out when they came up in the wrong spot.
Recently I purposely planted some Cape Gooseberries and when a few weeks old, overnight they were almost desecrated. This time my curiosity got the better of me. I started recording what bugs etc. were on the Cape Gooseberry. I collected some of the dark gooey blobs and some striped beetles. I examined them with the magnifying glass, measured and sketched them for future reference then bottled the blobs (larvae) and beetles in separate bottles covered with netting to see what happened to them. Yes, finally the connection, the dark blobs were the larvae of the striped beetle. So next to give it a name and try to control it. After talking with a few people and then finally a world wide internet search and found it.
It is a Lema trilineata or 'Tabacco slug beetle' or 'three striped potato beetle' or 'Colorado potato beetle' or in my case 'cape gooseberry beetle'.
The dark gooey blob is its larvae which carries its excrement on its back to deter predators (how delicious). The larvae is about 5 mm long while the three striped beetle is between 8 mm and 10 mm long. As they appear to be prolific breeders, laying their small yellowish eggs on the under side of leaves and having very successful hatches I have been looking at ways to control them.
Four ways that give some form of control are:
Manually squashing the beetles and larvae
Flicking them into a bucket of soapy water
Dusting plant with derris dust
Spraying with 'Eco Oil'
If anyone has any further suggestions please send them into me to share with our fellow members.
I work on the principle that if I have a problem with it in my garden it's more than likely other people are having the same problem. So come on let's share our experiences, problems and solutions.
Click the seed variety name for more information.
---