Gardening Articles
What Herbs are in Your Garden? How About Some Borage
By Penny Ossowski
Last year I grew some borage (Borago officinalis) after a friend asked me to get them some seeds from BOGI. On being offered a few of the seeds I planted them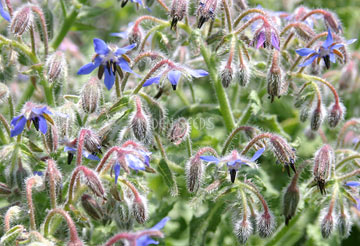 and they germinated quite quickly. Then I thought I'd better do a little research and find out where I should plant out the seedlings and what I would use then for. I found borage was a very beneficial plant for my garden and health.
In the garden borage leaves can be used much like comfrey and yarrow as a compost activator. Its vibrant blue flowers are not only very attractive but also full of nectar which attracts bees of all persuasions to your garden. It is handy to plant it near any plants with flowers needing pollination like passionfruit vines, citrus and many of your vegetables. Butterflies also find the flowers very attractive.
Medicinally the leaves and flowers can be used to make a tea which relaxes and calms driving away the stresses and worries of the day. It is said to gladden the heart, be helpful for breast feeding mothers and as a gargle for sore throats. The leaves as a poultice will reduce swelling. Borage supplies good levels of potassium, calcium, iron, magnesium and silica. Oil from borage seeds is useful as an anti-inflammatory and helps with rheumatoid arthritis.
Borage leaves do not store well but can be used fresh in salads or on sandwiches, cooked like spinach in stews, soups or casseroles. They have a mild cucumber aroma and a slightly salty flavour. The flowers can be used as a garnish for salads, drinks and sweets, candied for decorations and frozen in ice cubes to float in cold drinks.
Flowers can be dried and used as part of a pot pourri mix.
Borage is an annual plant which originated form the Mediterranean region. It grows about ½ metre or more across and about the same in height. Once if flowers, seeds will quickly follow and they germinate very successfully. They are not really fussy about soil but will do best in slightly acidic, well drained soil which has been enriched with plenty of organic matter. They prefer full sun but still grow quite well in part shade. Borage will grow well in the garden bed or in containers and need some protection from strong winds. Keep them well watered and they will flourish. In our area I found the heat of summer was too much for them so will plant some shortly. Borage is a good companion for strawberries and overall a hard plant.
To save seed wait until the blooms begin to fade and turn brown, pick the seeds but be sure to get them before they fall as it self seeds very well and can take over your garden. To get started Borage seed is available online.
Borage seeds from Eden Seeds and Select Organic.
Click the seed variety name for more information.
---