Our Guarantee
We back our seeds & products with our full customer satisfaction guarantee.
Read More.
---
---
Newsletter - Summer 2016
---




Summer planting is now in full swing. A good season to get into the garden.
Check your needs of the following vegetable seeds now, or whatever you need for your area from the full catalogue.
---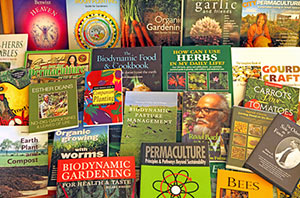 End of Year Book Special
Now is a great time to spread the joy of our great book range.
20% off all books until 25th November
(Whilst current stocks last)

When you order books on the Eden Seeds website it will show the full price.
However we will deduct the 20% discount until 25th November.

---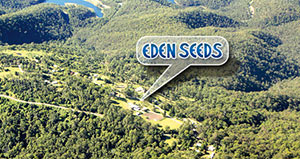 Our Sale
After 30 years Alf is ready to hand Eden Seeds to a new owner.
Contact Alf Finch oursale@edenseeds.com.au with expressions of interest to arrange an appointment.

---
Garlic for Western Australia
As Eden Seeds cannot send Garlic Corms to W.A. we can recommend a contact for:

Italian Pink (a soft neck variety)
Contact: Vince Randazzo
Phone: 0419 966 165
Email: vince@kangasteels.com.au

---
Articles
Getting Carrots to Germinate
25 Oct 2016

Efforts must be made to keep seed moist for 5 to 7 days. Seeds can be covered with cardboard or plastic for this time which is a good method to keep seeds moist. Water daily. As germinated seed will need light at about 7 days after sowing uncover them and still keep moist.
To get seeds to poke through the soil use a loose soil mix or cover with sand. Plant seeds in a V shaped trench about 25mm deep so soil will cover carrot shoulders as they grow. Uncovered carrots will show green colouration and taste bitter.
Now that germination has been successful seeds may come up thickly so you may need to thin them.
Deep and well dug sandy loam is the best to allow roots to develop fully.
---
---
Articles
Lost Seed
27 Oct 2016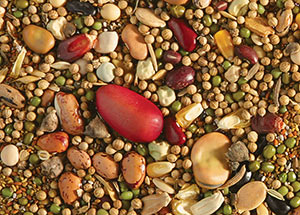 By using old traditional open pollinated vegetable varieties and learning to save seed for distribution to other growers we can be part of the support movement to save our food heritage varieties.
From the Garden Seed Inventory between 1987 and 2004 there were 1791 varieties of vegetable seeds no long available in North America which represents a loss of 24.5% in 14 years.

Plant varieties which have lost more than 25% since 1981 include Asparagus, Sugar-beet, Broccoli, Brussells Sprouts, Cabbage, Cauliflower, Celeriac, Corn, Corn Salad, Onions, Peas, Pumpkin, Radish, Salsify, Squash, Turnip.
In Cauliflower of the 152 listed varieties in 1981 by 2004 only 30 remained available – replaced by the proliferation of hybrids in all Brassica family vegetables.

Books to help with seed saving include the "Seeds Savers Handbook" and "Seed production for the Australian home vegetable gardener". These books are available from Eden Seeds which is keen to acquire seed for distribution to growers Australia wide.

Alf Finch
---
---
Articles
How to make Globe Artichokes perennial
28 Oct 2016
Sow seeds in Spring or Autumn in warmer areas. Young flower buds can be harvested in late spring.
In winter cut the biggest stems back to 30cm and remove smaller ones. Add compost or manure and mulch. Spring growth will result in more young buds next season. In winter each 3 years divide plants into sections about 30cm long. Fertilize and mulch.
Cook your harvested buds by steaming.
---
---
Articles
Saving Tomato Seeds
01 Nov 2016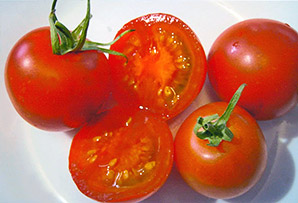 Once a Tomato is ripe then so are the seeds mature.
It is best when saving seed to let the tomatoes over ripen on the bush - but start the process as soon as any damage appears.

Tomato seeds have a jelly around the seeds which makes them difficult to handle and acts as an inhibitor to germination until it is rotted away. Most seeds savers squash tomatoes into a container and mix with water to ferment for a few days (3 to 5) in a warm spot (a sunny verandah is suitable).
The more the mixture is stirred the better the process and the more the seeds sink to the bottom.

When ready the container can be filled with water.
The heavier seeds will mostly be in the bottom so fermented flesh and skin can be gently tipped off.
Repeat this process several times until the seed is separated.
Seed is best placed on a screen of fly-wire and placed in a sunny spot to dry for several days.

Stir whilst drying to reduce damp spots and prevent them from sticking together.
Bring seeds in every night or rodents may eat the seed and the night air keeps them damp overnight.
Store in a cool dry place (once seed is dry enough) in an air-tight container in the fridge crisper. You will thus achieve years of viable storage.
---
---
Articles
Visitors from the Pacific Islands
07 Nov 2016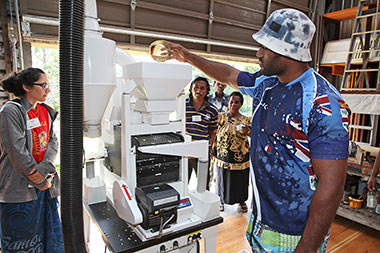 Eden Seeds received a welcome visit from the Pacific Open Pollinated Seed Exchange Learning group.
The group is in close contact with Seed Savers Network (Australia) and Emma Stone has been co-ordinating activities for many years.

As well as an exchange of ideas visitors discussed seed cleaning and storage methods as well as packaging and distribution.



Participants were from countries including Timor Leste, PNG, Solomon Islands, Fiji, Tonga and Samoa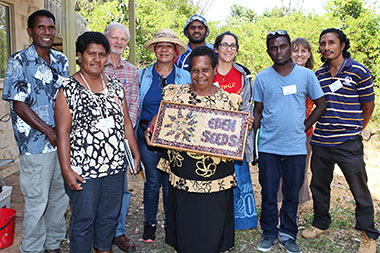 It is interesting to note that in climates where seed can be planted all year most local plants don't need storage as seeds are sown again straight away. This is just as well as many areas do not have electricity for refrigeration and if they do it is expensive.
The group has keen interest in documenting local food plants and growing and using methods. There is also concerns about introduced hybrids varieties.

An excellent Seed Saving Manual is available on
http://kastomgaden.org/training/community-seed-saving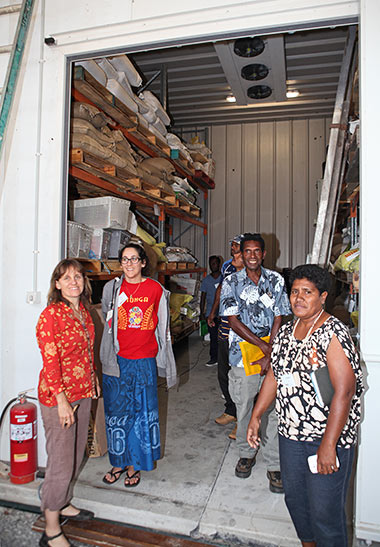 ---
---
Gene Ethics: News Media Release 29 September 2016

Bright prospects for South Australia's GM-free food and beverages.

Agriculture Minister Leon Bignell has released the Uni of Adelaide report he commissioned, entitled: "Identification and Assessment of Added-Value Export Market Opportunities for Non-GMO Labeled Food Products from South Australia". The report finds strong evidence that present and potential demand for South Australia's GM-free food and beverages is strong and demand for organic growing.
"A partnership of the SA government and food industry working together could achieve a GM-free and naturally healthy food bonanza for the state," says Gene Ethics Director, Bob Phelps.
"We fully support the report's conclusion that: 'opportunity lies in promoting a broad-based platform of 'naturally healthy' products (that are GM-free) from South Australia with claims that can be underpinned by traceability and verification systems.'
"South Australia's GM-free food and wine industry has a very bright future as it earns $18.2 billion, or 46%, of the state's product exports.
"It is great news that South Australia can benefit from the large and growing demand for GM-free, premium foods and beverages in China, Japan and the USA.
"If SA went organic and stayed GM-free, the report confirms that China, Japan and the USA markets would guarantee export success.
"Telling the truth and good news about the fabulous SA food industry has to offer will ensure that sophisticated shoppers everywhere want SA's natural and healthy foods and beverages. They will also pay premiums when they know and trust the producers and suppliers," he says.
"The report should not have ignored the strong domestic demand for premium GM-free, labelled foods among 25 million Australians. This is a good basis for growing GM-free export markets, as our national food industry feeds only around 60 million people. (The attached GM-free Shopping List also shows strong present and potential demand)
"The report resoundingly refutes the Productivity Commission's draft Agricultural Regulation report recommendations to the federal government which only serve the interests of foreign GM and agrochemical industries:
1. remove State's rights to declare GM-free Zones for marketing reasons; and
2. remove the requirement to label GM foods in New Zealand and Australia.
http://www.pc.gov.au/inquiries/current/agriculture/draft
"Grain Producers SA petition to lift SA's GM ban has little credibility and weak support from most farmers and the food industry.
"They also misled the Uni of Adelaide researchers on the lucerne seed industry's stance. GM lucerne would wreck Middle East and US export markets which will buy only GM-free lucerne seed from Australia. They merely promote the interests of CropLife and AusBiotech that are the voice for the 3 mega companies that own most of the GM and agrichemical industries.
"South Australian food and wine industries can prosper by staying GM-free and going organic, so the state is on a definite winner if it plays its cards right," Mr Phelps concludes.
---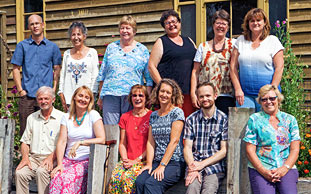 Thanks for your support, happy gardening.
Alf Finch & the staff at Eden Seeds & Select Organic.