Newsletter - Winter 2017
---

Welcome
Winter veggies are very rewarding and its still time to plant.
Winter is also a good time to get outside and catch up, with the main focus being early spring planting.
Catch-up on weeding and soil preparation, even time to plant a green manure crop and make a compost. You can also plan to plant weeks early in indoor sunny conditions and plant out when the weather warms up.

---
It's time to get Water Chestnut corms, limited amount available.
---
Articles
Seed: The Untold Story
12 Jun 2017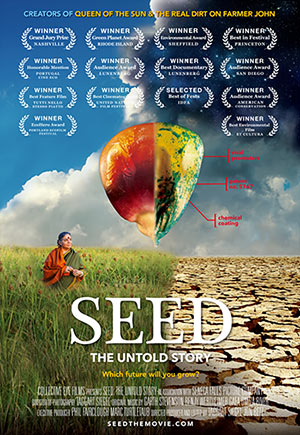 http://www.seedthemovie.com

"It's the most essential, illuminating and enraging film since Food, Inc."
NOW AVAILABLE ON DVD, BLU-RAY & STREAMING ONLINE

94% of our seed diversity has disappeared.
Join the seed movement


Hello Alf and Paul:
Thanks for offering to include an item in your next news, on new GM techniques - CRISPR/Cas9; ZFN; Talen; RNAi; etc. - (the GM industry calls them gene-editing). We need tough regulation, at least until their impacts are known and understood but the industry wants them and their products deregulated.

The GM-free Shopping List also attached FYI.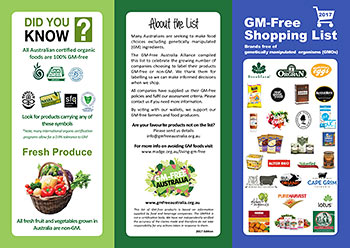 New GM game
Cosmos magazine calls 20th century, cut-and-paste, GM techniques "ham-fisted". Yet new GM techniques (CRISPR, etc.) and their products are being promoted with just the same cliches as before - more precise, accurate and efficient; quicker; safer; cheaper; more profitable; and key to 'feeding the world'. This is just PR as the techniques have no history of safe use and evidence mounts of many off-target effects.


Bob Phelps
Executive Director
Gene Ethics
www.geneethics.org
Gene Ethics Facebook
---
---

New Seed Collections
We have a new range of seed packs at a discounted price, AND include free postage & handling.

*Please note: adding other regular products to your order will incur regular postage & handling prices.
---
Articles
Canberra Show Prizes
09 Jun 2017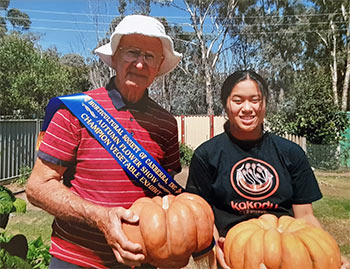 Keen gardener Reginald Jenkins has won the Champion Vegetable at the Canberra Horticultural Autumn Flower Show.
Reg had 17 winners, 7 seconds and Champion Vegetable with Pumpkin Musque de Provence. Locals were astounded by the colour of the pumpkin.
Eden Seeds are used in Reg's garden.

Photo: Reg and Olivia with the champion pumpkin.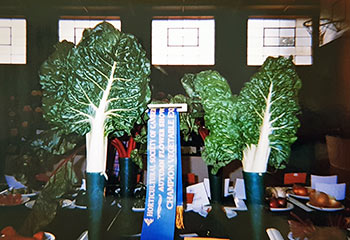 ---
---

Growing Old Favorites
---
---
Moon Planting Guide

- price reduced
---
Articles
Pan-Asia Bio-Dynamic Association
10 Jun 2017

Darren Aitken is an Australian Demeter Biodynamic farmer, and owner of Vortex Vegies, in Inverleigh Victoria.
Darren has been involved in Australian Demeter Biodynamic agriculture, with the Biodynamic Gardeners Association and the Biodynamic Agricultural Association Australia since 1998, and from 2002 he has been providing training and mentoring to new biodynamic practicians.

He started working with farmers from Asia in 2011, firstly in Malaysia, then China in 2013 and Taiwan in 2014. There has been also been training in Thailand in 2016 and interest from other countries. Darren does not advertise or promote his services, but waits until he is invited to provide training in any country and works farmer to farmer. (You can read the reports from these trips on the 'reports' menu on his website).
Over these years good farmers have presented themselves in each of the countries, and the number of farmers getting very good results in soil and plant health from applying the Australian Demeter Biodynamic Method is increasing. The results obtained and the relationships forged in each country prompted Darren to form the Pan-Asia Bio-Dynamic Association Ltd (PABDA) at the end of 2016. PABDA is a non-profit organisation solely dedicated to the practical development of the Australian Demeter Biodynamic Method in the Pan-Asia region.
Pan-Asia Bio-dynamic Association
www.pabda.org
All donations are tax deductable.
www.vortexvegies.com.au
---
---
Articles
Loss of Variety
15 May 2017
Whilst the work done by many seed savers to save the heirloom vegetable varieties has slowed down the ever continuing loss of excellent old traditional vegetables it is very sad when I think of the fruits I used to eat compared to the varieties offered today.

I grew up in an irrigation area in northern Victoria where there were three fruit preserving canneries nearby. Whilst some fruit for canning were used for cooking there were many tasty and delicious fresh fruits on offer in season.

My parents quarter acre block had a large veggie garden and chook run but also many fruit trees of stone fruits, including plum, nectarine, peach and apricots. Also there were many opportunities for children to raid fruit from trees hanging over a fence and with sometimes enticement to jump the fence.

The fruits offered today look the part and take a good picture, however that's where the similarity stops. Our eyes deceive us. The old stone-fruit I used to eat fresh off the tree when I was growing up were tasty, sweet, sun ripened and nutritious are now replaced by fruits which look good and last for days and days on the shelf.

Plants grown in poor soils and which are unhealthy produce fruits which are unattractive to humans, so we think that an attractive fruit is a good fruit. However if it is boosted by water soluble chemical fertilisers and therefore bloated and unbalanced in its nutrition so it may be attacked by insects. To keep them from damaging the fruit further chemicals in the form of insecticides are heavily and regularly sprayed. The result is fruit which looks like it came from a healthy pant but in fact is a product chemically boosted and protected.

In my younger days fruit was picked ripe and consumed quickly or stored in the fridge. Now when I buy stone-fruit and sit them on the bench sometimes for days so they will ripen more, become softer and hopefully gain some taste. In the end they are not anything the same.

In supermarkets I read the country of origin for Apricots as those imported from New Zealand are large and orange but tough and tasteless. The best way to get the taste of an apricot is to buy dried fruit from Turkey and soak it.
One of the delights of the occasions I have travelled to Europe in summer is to eat the tasty sweet varieties of loquats, cherries, apricots and peaches they still have.

We in Australia don't know what many fruits can taste like. Because the varieties were replaced before many younger Australians were born, They will never know unless they travel overseas.

I lived in Gympie 19 years and there was on open pollinated papaw grown locally called Gympie Gold. It was the market preferred variety and fruit was sent all over Australia. The Ag Dept breeders developed a new hybrid and Gympie Gold died out. Now I cannot find Open pollinated papaw except in Fiji which now has a shortage because of cyclones. Where are the blood plums which had red flesh to the stone, Alberta peaches, even Waltham Cross grapes.

Well the varieties of vegetable seed keep disappearing too, to be replaced by hybrids. Some commercial seed producing companies and distributors strive to handle only hybrids. Hybrids are a cross between two man-made inbred varieties. As hybrids can be patented, breeders hope to achieve a great market share with their popular variety. So just like the open pollinated papaw where growers used to be able to save seed for themselves but now have to purchase new seed each year, vegetables growers who use hybrid seed also have to go back to purchase new seed as hybrid seed will not grow true to type. So the breeders drop our heritage food varieties in favour of their newly patented inbred lines of inferior nutrition and taste.

It's really our choice. So seek out growers of old fruit varieties and growers of our old heritage vegetables varieties. Where possible avoid inbred hybrids and ask for open pollinated varieties which are pollinated by bees, insects and the wind. You will most likely find them at local markets not supermarkets.
---
---
Articles
Lucerne
09 Jun 2017
Lucerne (Alfalfa) Medicago sativa

Attractive cool weather legume. Excellent for stock grazing in mixed pasture and use as a high quality bailed hay.

Does best in deep well drained soil as plants themselves are deep rooted and as such plants are excellent for producing organic matter into the soil. As a legume it is used to add nitrogen to the soil in its root nodules. Deep roots can access sub-soil moisture and respond quickly after rain.

When you buy lucerne seeds from Eden Seeds you will also be given the inoculant needed to add to the seed when it is sown.

Young plants can be damaged by grazing so it is best to wait until plants commence flowering and use light grazing rotation to ensure plants are not eaten below 50mm.

Soil pH is best around neutral but will produce well above 5pH through to 8pH.

Rainfall needed is 375mm to 500mm

Inoculant: AL

Varieties
TRIFECTA – its low lying habit enables good persistence. Suitable for grazing and cutting. Extended growing season into spring and summer. Moderate resistance to pests and diseases.
HUNTER RIVER – old traditional variety introduced by early settlers and widely used until late 1970's when varieties more resistant to aphids where introduced. As it has a low growth habit it can be more heavily grazed. It extends winter growth into autumn and spring season. Can be susceptible to disease and pests.
SEQUEL – good winter activity. Its erect nature makes it suited to hay bailing and will respond if not cut too short also should be lightly grazed. Good disease and aphid resistance.
---
---
Schools discount
We are pleased to see an expansion of the enthusiasm for the bringing of gardening activities into school curriculums. Eden Seeds/Select Organic can support those involved in supporting these experiences for children by supplying seed at a discounted price.
Schools who wish to be included can contact us on schools@edenseeds.com.au or by phone (07) 5533 1107.
---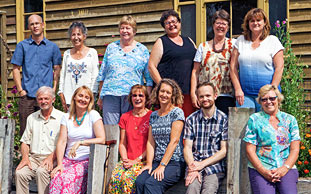 Thanks for your support, happy gardening.
Alf Finch & the staff at Eden Seeds & Select Organic.