Newsletter - Spring 2022
---
Old Traditional Open Pollinated Heirloom Seed Varieties
It's now time to start planting your Spring vegie garden

Check your needs of the following vegetable seeds now, or whatever you need for your area from the full catalogue.

Seeds to plant through Spring/Summer

Amaranth

Artichoke

Asparagus

Bean, Bush

Bean, Climbing

Bean, Bush Snake

Bean, Climbing Snake

Beetroot

Cabbage, Chinese

Capsicum

Carrot

Celeriac

Celery

Chia

Chilli

Corn

Cucumber

Eggplant

Gourd

Lettuce

Mustard Greens

Okra

Pea

Pumpkin

Radish

Rhubarb

Rockmelon
---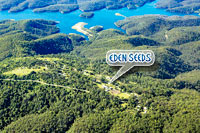 Business Sale on Hold
It has been the pleasure of growers and office staff to engage in activities to keep old traditional heirloom, open pollinated varieties available. For the present Alf Finch has decided to hold the position of owner and manager and will later explore the possibilities of finding a new owner as a way to keep the service strong and growing.
---
Why Eden Seeds and Select Organic?
After completing a Permaculture designers course Alf established Eden Seeds in 1986 at the time plant varieties rights (PVR) was being expanded by legislation. This was perceived by many to threaten the continued use of the Old Traditional Open Pollinated, Heritage (heirloom) varieties of vegetable and flower seeds – which turned out to be the case. The protest against PVR is said to have been greater than that against the Vietnam war.
The reduction of availability of the open pollinated varieties continues world-wide to this day.
Our aim in 1986, and still is, to distribute as widely as possible the Old Traditional Open Pollinated varieties of vegetable seed, preferably old Australian varieties and organically or bio-dynamically grown where possible.
The desire was to provide an alternative; to have the heirloom varieties available through-out Australia by mail order and through retail outlets. At present we have over 290 shops making the seeds available and an excellent website. We also wish to encourage the saving and distribution which still is much needed.
The threat to open pollinated varieties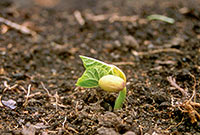 Hybrids, which the PVR legislation protects, are a cross between two inbred varieties. A plant is closed to the wind and pollinators and hand pollinated to itself and the next generation are also closed and then crossed to produce a hybrid. So in my view the result is genetic modification. Once patented these are made available in favour of the heirloom varieties which we can all save and re-plant again.
The result is that in most cases the only varieties available in supermarkets (including organic stores) is hybrid. Seeds of patented hybrids necessarily fetch a higher price and growers cannot save their own seed for next season to grow true to type.
Save your own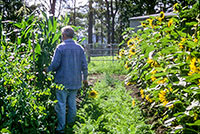 From open pollinated heritage varieties growers can save their own seed if they are careful not to allow contamination which the same species of plant – e.g. .Zucchini Black and Zucchini Golden will cross.
If every grower could learn the skills to save one variety and distribute it to other growers the varieties would not die out. Growers could save lettuce, tomatoes, beans and peas which will not cross pollinate. However the vine crops will cross pollinate with the same species and need isolation including melons, pumpkins, cucumbers as well as the brassica group which includes cabbage, broccoli, cauliflower, kale, khol rabi etc.
Better nutrition and hardy to grow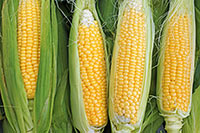 Years ago our search found little evidence of concerns about the quality of nutrition for human consumption comparing the Old Traditional and modern hybrids. However, a good indicator for stock feed was already done by Charles Walters Jr. and C J Fenzau and published in 1979 as "An Acres U.S.A. Primer". Indications for corn are that the open pollinated variety contained on average 400% more nutrients including copper, iron, manganese, calcium, sodium, magnesium and zinc with protein between 35% and 75% more protein.
Why hybrids
As well as financial benefits for the seed developer hybrids are grown to satisfy transport and shelf life in supermarkets. The tasty and nutritious varieties used by home gardeners may not travel well or keep as long on the shelf. Hybrids are selected to look good and may keep longer. However, this is at the cost of traditionally selected qualities including taste and nutrition.
---
Sales Rep positions needed
We have not had a sales rep for two years in Sydney or Melbourne.


The positions are to visit shops which resell our Eden and Select Organic ranges. Twice in autumn and twice in spring. Simply to see how shops are getting on, to get approval and then do a stock take. Payment is per kilometre for the use your own car plus an hourly rate for your time.


Sydney 1.5 days (4 times per year)

Melbourne 3 days (4 times per year)

If you feel you can be of assistance please contact Alf Finch, phone: (07) 5533 1107 or email:
---
Medicinal Herbs
---
Green Manure Mix
It is enough to cut green manures as they flower though they can also be cultivated into the top 5cm (2 inches) of soil. As part of the rotation they help build up organic matter and the rotation can be used to control weeds. Stir well before broadcasting into a newly cultivated soil. The mix may vary a little depending on availability. Our aim is to make available as many reasonably priced legumes, grains, vegetables and herbs as possible. Not all mature together, but that's o.k, dig them in anyway and leave them one month before planting time. 400g covers approximately 100sq m. 1kg covers approximately 250sq m. 4kg covers approximately 1000sq m.
---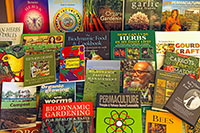 Book Special - 30% discount on ALL titles!
Stock reduction sale, we are offering a massive 30% off all our books, DVDs, and wall charts. Prices will remain listed at full price but we will manually deduct 30% discount off any books on your order when we process your order.
---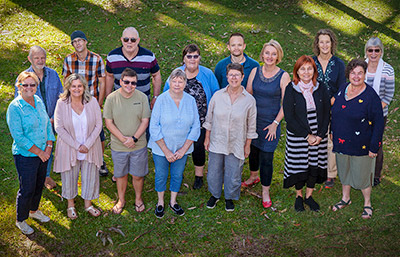 Thanks for your support, happy gardening.
Alf Finch & the staff at Eden Seeds & Select Organic.